rtly after the automobile debuted in America.
The first official RV was the Touring Landau from Pierce-Arrow for genteel and well-heeled customers! Its back seat folded into a bed, a chamber pot served as a toilet and the sink folded down from the chauffeur's seat who communicated with the passengers via telephone!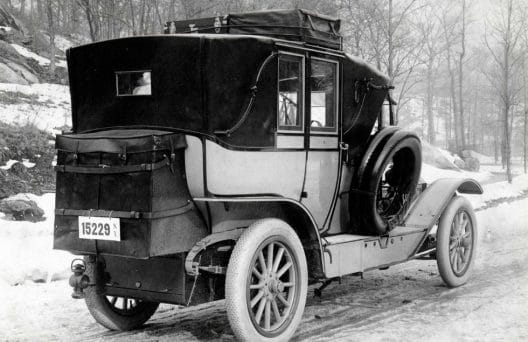 National Parks
Auto-Kamp trailers and Los Angeles Trailer Works started manufacturing "auto campers" in 1910. (Today, Elkhart, Indiana manufactures about 60% of RVs in the US.)
What really spurred the growth of auto campers was that national parks (born in 1916) began attracting travelers demanding more campsites. Allegedly, in 1922, you could visit a Denver campground with 800 sites, a nine-hole golf course, a hair salon and a movie theater.
The Growth in RVs And Campers
Where there are RVs, there are like-minded RVers! The Tin Can Tourists organization (campers who heated tin cans of food on gasoline stoves by the roadside) eventually grew to 150,000 campers by the mid-1930s.
Another factor that boosted the growth of auto campers was annual camping trips made by famous moguls of the day including Henry Ford, Harvey Firestone and Thomas Edison. Their widely-publicized travels drew national attention.
More recently, the CBS correspondent, Charles Kuralt traveled for more than 25 years, beginning in 1967, in motor homes for his "On the Road" series.